Looking for a custom piece for your home or office? The below info will help you understand what to expect!
Are you looking to order a custom piece to make a room in your home truly unique? Browse our inventory with a piece and place in mind that you are looking for.  Knowing your measurements for the space will help you with the process.
T
w
o
o
p
t
i
o
n
s
f
o
r
c
u
s
t
o
m
w
o
r
k
I keep a large selection of unfinished pieces available for clients to pick from or if you already have a piece in your home that needs updating I can help with that as well! Just look for the Bring your Own Furniture option. For an idea on pricing for BYOF check out our pricing information page. When you find what you are looking for, move on to customizations and purchase it.
Below is a sample version of the custom finishing contract I provide to all clients that are booking with me. Please familiarize yourself with this prior to booking!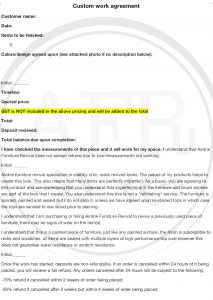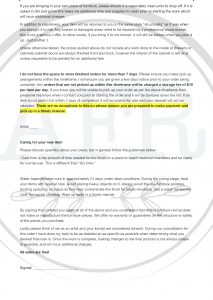 Now is when you get to tell us your ideas, colour pallet and inspiration for the remake of the pieces. In the purchase process you will be asked a bunch of finishing questions. For most clients, this is the hardest part, but you aren't alone. During the shop process you will be guided through a series of selections including colour, finish, distressing, knobs and specialty finishes.
You will need to upload a photo example of your desired look. For a gallery of past work and colour ideas check out our GALLERY. Don't be overwhelmed by these questions we will be contacting you and you will have time adjust the look of the piece until we sent the finalized contract. Be sure to have measurements and digital photos on-hand before you start the purchase for your piece or ideas.
The cost for each piece is listed and is an approximate pricing based on the typical styles and finishes. This cost does not include the knob cost so keep that in mind if your piece has a lot of knobs. We will send additional costs with the finalized contract. There is a chance that the cost could be more if specialty features are needed.
Generally we book approximately 6-10 weeks in advance for custom work, you could also choose the rush fee if you want it sooner than that. Completing a project generally takes 2-3 days per piece. We have a very small number of openings in the schedule for "rush" orders. CANCELLATION: You have 24 hours from time of purchase to cancel your order and receive 100% refund, after that refunds are limited.
Want to bring your own furniture?